All About me
The first time I heard Emerson Drive I just knew there was something special about these guys. I was able to attend CD Release Party back in June of 02 that they had here. .I was blown away by there performance the guys are super talented and oh yeah...Damn Cute to. If you ever have the chance to see the guys live go for it you won't be disappointed the guys are great live and have blast on stage. I have been fortunate to see the guys live a few times over the past year and plan on seeing them again whenever I can.
I was also lucky to met a great bunch of girls from Canada and across the United States who have become great friends to me..Ladies y'all know who you are ! Hopefully we will have many more chats and someday well all meet up,PARTY *Wink Wink*.
Want to know more???
Name Lisa
Age 22
From Alberta Canada .
Favorite ED Member....DANICK!!
Favorite ED Song.. hard to pick but..... Fall Into Me, Devil Went Down To Georgia (they kick butt at this song)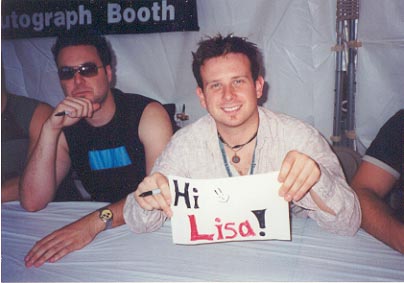 I want to thank Kristy and Emily for getting this picture for me I love it !!